Sorry, we're closed!
Momentum is closed. If you'd like to be notified when it re-opens, please hop on my email list.
HOW THE F DO I GET TRAFFIC?
Most entrepreneurs are pretty good at coming up with product ideas. Maybe it's a membership site or coaching or a course (ending in a "7", obviously!).
But even the most knowledgeable expert makes no sales without traffic.
And the best offer dies with no traffic.
Traffic is your oxygen and it's the hardest nut to crack.
We're told by the "marketers" to create a complex, head-scratching web of funnels 'n' steps like this...
Hard pass.
Landing pages, opt-ins, upsells, downsells, copy, ads, graphics, split-tests, headlines, autoresponders, sales letters.. the list goes on and on.
No wonder so many give up.
Getting paid traffic to work is hard. Really hard. Much harder than you're led to believe.
Oh yeah, it's expensive too. And every marketer who's had success knows it takes thousands of dollars just to do a proper test.
The days of "just test with $5 a day" are long gone and they ain't coming back.
All Your Traffic Headaches... Solved!
It's been right under our noses the entire time.
Because of the recent changes in the algorithm, YouTube has become THE BEST place to get consistent, free traffic... even if you're just starting from scratch.
Here are just a few reasons you should be playing in the YouTube sandbox...
New Creators Rewarded
Gary Vee is the poster child for social media and "hustle".
Yet, even with a 10 year head start, his YouTube videos get less views than complete newbies.
YouTube doesn't care how long you've been online or even if you have no subscribers - they only want relevant content for their users.
This is VERY good news for you!
AUTOMATIC SEO!
Google owns YouTube - and you might have noticed Google pushing videos in their search results.
They want people to see the videos and watch them.
No other social platform gives you the FREE organic SEO as YouTube.
Check out the first 2 results for a google search of "6 pack abs" are YouTube videos!
Evergreen Traffic!
In most platforms, your content "disappears" after around 48 hours.
When was the last time your posts from 4 years ago were found?
But with YouTube, your videos are evergreen.
In this YouTube search, the first three results were 4 years, 2 years and 1 year old. Not bad, huh?
Get Paid..to MArket?
Did you know you can get PAID every time your videos get viewed?
YouTube sells ads and does a revenue share... with you!
And since your videos are evergreen, it's true "set it and forget it" passive income.
Check out this text thread with my friend... now generating over 250K per month on YouTube
Desparate for 35+
Did you know over 10,000 baby boomers retire every day - and over 60% watch YouTube regularly?
Gen X? They account for over 1.5 billion views a day!
Most YouTube Creators are young... and people over 35 are desparate for content from their peers.
Right now is the perfect opportunity to jump on in - especially if you're over 35.
Perfect Prospects
YouTube is the world's second largest search engine...
... and it's where people go to SOLVE PROBLEMS.
Problem-related searches - better customers.
If you're in any "how to" market (personal development, fitness, coaching, health, marketing, hobbies, business, investments, performance, etc.) - you need to be here.
It's Not Going Anywhere
YouTube is the world's second most popular search engine.
And it's owned by Google - the world's most popular search engine.
Unlike other platforms that rely on just one revenue stream, Google and YouTube together aren't going anywhere in our lifetime.
Stand out in an A.I. Future
A.I. isn't coming, it's here.
As it's now easy to copy any writing style - people are looking for REAL connections.
There's no better way to build a real, human connection than through videos.
HEY, I'M RYAN. LET'S SOLVE OUR TRAFFIC PROBLEMS ONCE AND FOR ALL... TOGETHER.
FROM SCRATCH. FRESH START.
My name is Ryan Lee and I've been building one-person businesses (mostly in health and fitness) for over 25 years.
One of my most successful students, Jeff Cavaliere, has built a massive one-person empire (AthleanX) with over 13 million followers by focusing all his traffic efforts on YouTube.
And while I pointed him in that direction, I screwed up by not following my own advice.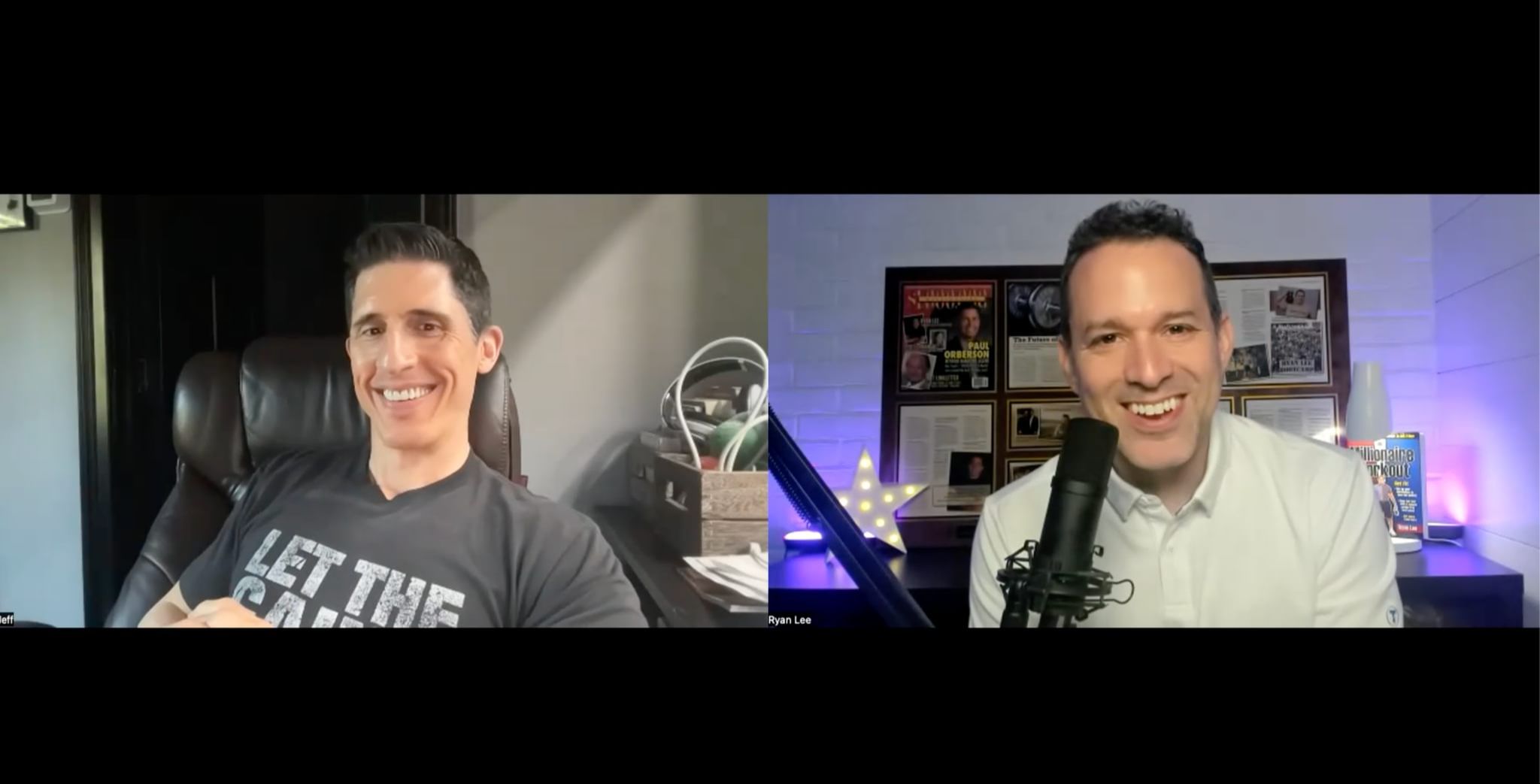 Over the decades, I've tried thousands of marketing channels and tactics.
Some worked. Some didn't.
But after selling my most recent company (Rewind Greens) a few months ago - for the first time in a decade, I'm building my personal brand...
... and I'm going all-in on YOUTUBE.
But rather than do it on my own, we're going to do something really special - you'll have a front-row seat and build along side me.
Have you ever seen a great business and wished "I could have been there from the start and done it with them"...
... well, here's your chance to play.
The LIVE, 4-WEEK Hybrid "From Scratch" Coaching and Co-Working Group.
First Class Begins on Thursday, June 1st
We're going to have a new live class every Thursday.
LIVE. In real-time.
We're going to record, play and market together.
And if you can't make a class live, they'll all be recorded for you.
YOU'LL FINALLY HAVE ONE SIMPLE, POWERFUL and CONSISTENT TRAFFIC SOURCE
This program is different. VERY different.
In fact, I don't think anyone has had the guts to do this before.
This isn't a passive "course" that gathers digital dust. Oh heck no.
Together, you, me and lots of fellow smart, passionate entrepreneurs are going to build together - FROM SCRATCH - in real-time.
It's PART coaching group and PART co-working. Arm-in-arm.
Here are just a few things we'll do, discover and play with together during the next 4 weeks...
How to stand out with your videos, brand and hooks
The "secret" tool to research the perfect niche
Setting up your account the right way
How to turn your videos into automatic list-builders
How to create the ultimate studio "on a budget"
How to come up with great video hooks and stories to keep them engaged
Your ultimate video planning guide (when to upload, schedule and more!)
How to avoid the BIG mistakes leading to less views
The #1 thing YouTube wants in your video - and why most get this wrong
The simple way to edit your videos in just a few minutes (including using FREE editing software)
The perfect length told to me by my friend generating over $250K per month in passive income
After the first week, you'll be ready to rock...
How to DOUBLE your video view rate by avoiding this common word

How to pick kickass titles (like how creator

How to create thumbnails that grab 'em by the throat (in a good way!)

How to be great on camera - even if you're a little shy or nervous

Say goodbye to "cold messaging" as you'll get leads for free without lifting a finger
We're rolling up our sleeves and doing this together.
The goal is to give you one SIMPLE, consistent traffic source so you don't have to "hustle" to death.
SAY GOODBYE TO FUNNELS, PAID TRAFFIC AND THE STRESS OF TRYING TO "BE EVERYWHERE"
Once you have consistent income, all the stress goes away.
You can ignore all the scammy emails about "grind 'n' scale" and don't even get me started on the "who wants my free checklist, drop a ME below" posts.
Yeah, that's annoying.
Forget all that because people are finding you every day... automatically on 'da Tube..
That, my friend, is the power of one SIMPLE traffic stream.
BEST BONUSES EVAAAH?
I won't insult your intelligence and pile on a bunch of bonuses of little value.
Instead, here are 3 powerful add-ons that'll supercharge your success, guaranteed!
BONUS #1
"FACELESS" BUSINESS?
HOW TO CREATE VIDEOS WITHOUT BEING ON CAMERA
Not everyone wants to be the "face" or on video. If you'd rather be "behind the scenes", you'll see me build a completely "faceless" business.
When you should (and should NOT) use A.I. in your videos
How to get all your content done-for-you, without lifting a finger
How to monetize even if they don't know your name
It's never been easier to get "faceless" traffic.
BONUS #2
DONE-FOR-YOU VIDEO TITLES 'N' HOOKS
Goodbye Blank Screen!
Coming up with good video ideas, hooks and titles are the toughest part of the creation process.
You'll never have to start at a blank screen again because you're getting over 30+ done-for-you titles, hooks.
These formulas are plug-n-play and proven to get 3-10X more views.
BONUS #3
Q/A, HOTSEATS AND MORE
REAL-TIME FEEDBACK
This is where you'll be able to get your questions answered and receive instant feedback on your videos, hooks, thumbnails and more.
There will be plenty of time to get the help and support you need to rock.
WHAT THEY'RE SAYING
Rather than brag about how powerful and value-packed my programs are, here's some unedited feedback from the most recent class of MOMENTUM.
Oh yeah, while some marketers brag about 20% refund rates, mine are .005 (that's 1/2 of 1%!).
You were probably expecting to pay $1997 or, at least $997 - right?
Not on my watch.
I LOVE overdelivering at a great value.
$299 is a really, really good price to finally have ONE simple traffic plan in place.
There are NO Upsells and NO catch!
On a slightly selfish note, I'll get paid to build my new traffic channel - while you have a front-seat for all the action.
Win/Win.
Get traffic or you don't pay.
Go through the entire live 4-week program. And when it's over, if you have implemented along side me and still not getting traffic, you'll get every penny back.
FREQUENTLY ASKED QUESTIONS
.
When Does the program start and when are classes?
What if I already have a youtube channel?
I don't know how to edit. is this program right for me?
how many subscribers will I get?
how much time will i spend on this each week?
how do I know what kind of videos to make?
What if I don't want to be on camera?
How will A.I. effect my videos?
Let's do this together...
We are going to do this together. From scratch. Fresh start.
Just imagine what your business will look like in a few months with ONE simple, consistent traffic source.
You're getting all the tools, the direction, the support and the focus on get 'er done.
We so got this.
Get traffic or you don't pay.
Go through the entire live 4-week program. And when it's over, if you have implemented along side me and still not getting traffic, you'll get every penny back.